Biomaterials EPSRC hat-trick to help launch academic careers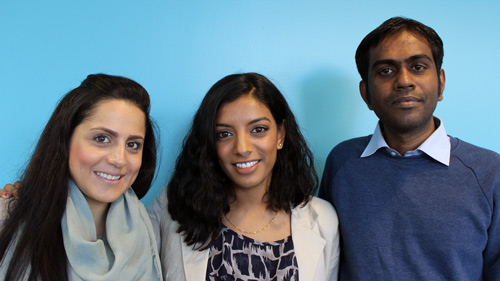 Just like that.
These three UCL MechEng PhD researchers have taken their next career steps courtesy of a hat-trick of Engineering and Physical Sciences Research Council (EPSRC) grant wins for the department's Biomaterials Processing laboratory, lead by Professor Mohan Edirisinghe.
(From left) Post doctoral researcher Dr Maryam Parhizkar, research assistant Anouska Nithyanandan and Dr Sunthar Mahalingam, are all keen on pursuing careers in academic research and the new awards for the laboratory, totalling some £1.4m, have allowed them to continue to pursue their dreams right here at UCL.
Professor Edirisinghe, whose three new EPSRC grants this year takes his personal tally to 34 said, "For me it is deeply satisfying to give employment to three of our own PhD students and this gives them a nice platform to get academic positions in the future."
Dr Mahalingam's main aim will be using the lab's novel, patented method of generating nanofibres for use in modern pharmaceutical products. His research will be done in collaboration with UCL School of Pharmacy and companies Astra Zeneca and BASF.More on the method here.
Anouska Nithyanandan will continue her doctoral research into smart bioactive coatings, as a research assistant working with Professor Edirisinghe and co-investigator Dr Jie Huang. This Template-assisted Electrohydrodynamic Atomisation (TAEA) spray-patterning project is a collaboration with JRI backed by a EPSRC Healthcare Impact Partnership.
Finally, Dr Maryam Parhizkar will be collaborating with UCL Eastman Dental Institute,UCL Oncology and the IBME at the University of Oxford. She will be using a new patented device from the Bio-Material Processing lab to make a combined tumour-busting microbubble-nanoparticle drug delivery platform.
Last modified on