Cover story: "Creating optically tunable protein bubbles…"
The January 2015 issue of Langmuir, the American Chemical Society Journal of Surfaces and Colloids, features the work from Professor Mohan Edirisinghe's Biomaterials Processing Group on its cover.
The prolific Bonfield Chair of Biomaterials and his collaborators who include the UCL School of Pharmacy share new, simple methods of generating functional bubbles, which are of significant current pharmaceutical and biomedical engineering interest.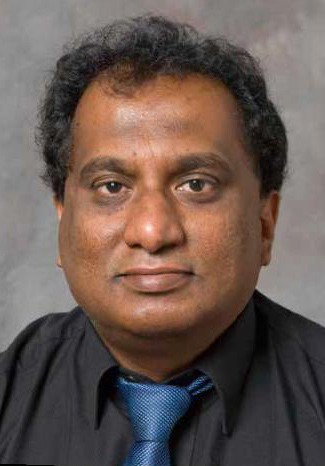 In the featured article, (supported by EPSRC fundingEP/L023059/1), the authors chart their invention of a new scalable process to generate gold nanoparticle-functionalized protein bubbles by the simultaneous application of pressure and rotation to selected solutions kept in a cylindrical vessel.
The cover shows how stable bubbles are initiated by vortex action and appear at the orifices on the vessel surface and subsequently continue to evolve and accumulate on a collector. A parametric map and high speed camera videos show how continuous bubbling can be performed, and the optical tunability of the bubbles generated are verified by spectroscopy.
For more information, see the article "Formation of Protein and Protein–Gold Nanoparticle Stabilized Microbubbles by Pressurized Gyration"

Links
Last modified on