Dr Helen Czerski named Honorary Fellow of British Science Association
UCL Mechanical Engineering lecturer and researcher Dr Helen Czerski has been named an Honorary Fellow of the British Science Association (BSA) for 2019.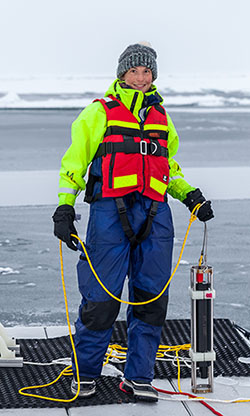 This fellowship is the highest honour that the BSA can confer on to an individual, and is awarded to those who make an outstanding contribution to promoting science and placing it at the heart of culture and society. As a physicist and oceanographer focusing her research on the physics of ocean bubbles, Dr Czerski is deeply passionate about engaging the public on scientific topics and is a much sought after public speaker. Alongside her research and teaching, she has spent the last decade presenting numerous documentaries for the BBC and writing science columns for Focus magazine and the Wall Street Journal.
Professor Yiannis Ventikos, Head of Department, UCL Mechanical Engineering, said, "Throughout her career, Helen has made outstanding contributions in generating new knowledge but also in bringing science and technology to a wide and diverse audience. Her passion and enthusiasm are immeasurable and contagious! We are very lucky to have her and delighted to see her getting recognized for her work."
On receiving this prestigious fellowship, Dr Czerski said, "Our technological society is grasping for ever-deeper control of both the human body and our shared planet, and we need to make long-sighted collective decisions about how to manage this transition. But this can only happen if everyone feels included in the process of science. Effective leadership in this endeavour is absolutely essential," adding, "I'm a long-term supporter of the BSA's impressive work in this area. I'm delighted to have been awarded an Honorary Fellowship."
Dr Czerski receives this honour alongside Angela Saini, author and journalist; Chi Onwurah, MP for Newcastle Upon Tyne Central; and Rt Hon the Lord David Willetts, Chair of the Huxley Summit Advisory Board. Dr Czerski also joins the ranks of previous esteemed Honorary Fellows, including Sir David Attenborough.
About
Last modified on