Dr Sunthar Mahalingam wins international young researcher award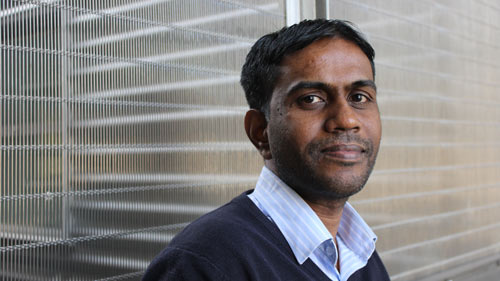 Many congratulations to Dr Sunthar Mahalingam, whose excellent work in materials science research has earned him an international Young Researchers Award, to be presented today.
The Elsevier and Materials Science and Engineering C Young Researcher Award recognizes research excellence in experimental and theoretical topics at the interface of the biological sciences and materials engineering, by individuals who are 35 years old or younger.
Dr Mahalingam receives his award alongside Dr Fabiola Munarin of the Coulombe Laboratory, Brown University USA.
Though Dr Mahalingam will not be able to collect his award in person, the MSE Young Investigator awards will be presented today at the opening ceremony of the Society for Biomaterials Annual Meeting at the Charlotte Convention Centre in North Carolina, USA.
Sunthar gained his doctorate here at UCL for research on novel electro-hydrodynamic forming of functional materials. Subsequently, he was a research associate in the Interface Analysis Centre at Bristol University, UK where he developed the concept of in-situ mechanical testing of materials in the focussed ion-beam microscope.
Now back at UCL Mechanical Engineering, he now works in his former PhD supervisor Professor Mohan Edirisinghe's prolific Biomaterials Processing Group. Sunthar is an Engineering & Physical Sciences Research Council (EPSRC) supported research associate, inventing techniques to manufacture functional polymeric fibres and smart bubbles across the scale range from micro-nano, mainly for pharmaceutical and biomedical applications.
On hearing of his award he was delighted; "I'd like to thank all of those who believed in me", naming Professors Edirisinghe and Mike Reece, amongst others, as those he remains grateful to.
Born in Colombo Sri Lanka, Sunthar's medium term ambition is to be a lecturer in materials science and engineering.
Link
Last modified on