Dutch Navy honours masters student
Marine Engineering graduate student Jordy van de Mheen, has been honoured by the Royal Netherlands Navy for research work done in his Master's thesis at UCL.
The 23 year old submariner, who graduated in September 2013, won the Dutch Navy's inaugural Van Hengel-Spengler award, for his development of a new design tool for submarine power systems, including a graphic user interface.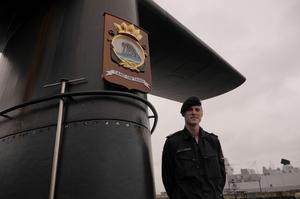 Sub Lieutenant van de Mheen received his award from Admiral Matthieu Borsboom, the Commander of the Royal Netherlands Navy, at the 16th Maritime Awards Gala held in De Broodfabriek in Rijswijk, the Netherlands last week. The jury praised him for the wide scope of energy systems he studied and the potential for practical applications of his tool in the design of submarines and other vessels.
Jordy van de Mheen on the HNLMS Walrus
Reacting to his honour Jordy said, "It really gives me satisfaction, not just for me, but for my supervisor Professor Bucknall and the Royal Netherland Navy. They invested a lot of time in me and this proves that it was useful."
UCL Professor of Marine Systems Richard Bucknall said 'Jordy was a strong student and it was a pleasure to supervise him on his chosen topic on Energy Storage for Diesel-Electric Submarines.  The department runs an internationally-recognised Submarine Design Course and his computer-based design tool will be very useful to support concept design studies.
Jordy scored highly on the MSc Marine Engineering course and was a Dean's List student, as well as winning his project prize.'
Back in the Dutch Navy after his time studying at UCL, Jordy has little opportunity to celebrate his victory; at least not above sea level. At the time of writing he is submerged on the HNLMS Walrus, somewhere between the Netherlands and Glasgow.
The Van Hengel-Spengler award, which celebrates innovation from young Dutch mariners, was launched to mark the 525th anniversary of the Royal Netherlands Navy.
Theo van Hengel and R.P.C. Spengler were two Dutch naval officers who invented a rotor machine, which led to the development of the famous Enigma cryptography machine used in World War II.


Van de Mheen wins first ever Navy award

UCL Mechanical Engineering offers an MSc Marine Engineering programme which attracts naval engineers from around the world. Current and recent students on this programme include entrants from the Royal Navy, Canadian Navy, Royal Netherlands Navy, Royal Australian Navy, Nigerian Navy, Brazilian Navy and the South African Navy amongst others.
Photo courtesy of Jord Verheij
Last modified on