First cover article for biomaterials research student Xu
A major part of UCL MechEng PhD student Zewen Xu's work attempts the novel making of antimicrobial fibre mats. A paper on this research features on the front cover of the journal Macromolecular Materials & Engineering (August 2016 issue). Xu invents a new environmentally-friendly manufacturing route for the production of fibres without using solvents. The fibres have high antibacterial activity and are also proven useful in tissue engineering.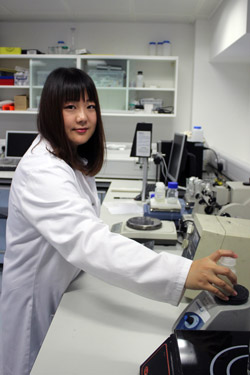 Before joining UCL, researching in Professor Mohan Edirisinghe's Biomaterials Processing Lab, Zewen obtained her MSc from The University of Newcastle. In order to carry out her research she has developed extensive links with the Centre for Clinical Science and Technology, UCL Division of Medicine.
In carrying out the work described in the paper, she also collaborated with the Department of Life Sciences at University of Westminister and UCL's School of Pharmacy. Later this year she will present her work in Japan (5th International Conference on Material Science and Engineering Technology in Tokyo).
Celebrating the publication, Zewen said "It's a nice honour to see my work published on the journal's cover. I would like to thank my supervisors Professor Mohan Edirisinghe and Dr. Suntharavathanan Mahalingam for their continued support and encouragement for my research. I also have to thank my collaborators here at UCL and at the University of Westminster for their ongoing support and generous access to their facilities."
Last modified on