The future of mitral valve surgery?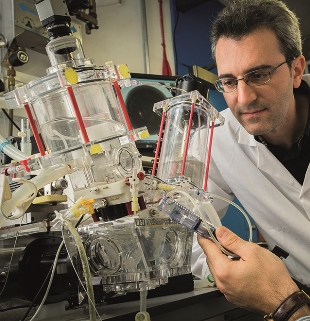 An article published by the British Heart Foundation (BHF) highlights the work of UCL Mechanical Engineering's Dr Gaetano Burriesci into artificial heart valves
---
Research that could be the future of mitral valve surgery
British Heart Foundation (BHF)-funded research hopes to develop a new type of artificial valve for the heart that could benefit many patients. Doireann Maddock finds out more from Dr Gaetano Burriesci.
People who need a mitral valve replacement in the future may benefit from an innovative valve design, which would mean they no longer need open heart surgery.
Dr Gaetano Burriesci and his team of researchers at University College London are designing an artificial valve that will enable surgeons to replace the mitral valve using a transcatheter technique, a less invasive method than open heart surgery. They have the backing of a £182,714 grant from the BHF.
Last modified on