Gabrielle hits the top ten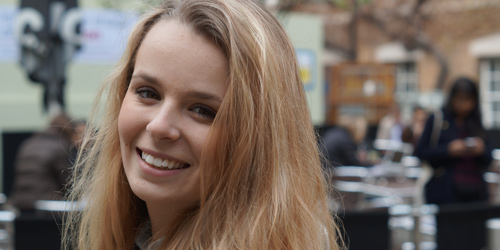 No. Not that Gabrielle and not that Top Ten!
Second year UCL Mechanical Engineering student Gabrielle Bourret-Sicotte, has been named as one of the top ten female undergraduates studying in the UK. 
After beating off over 800 other applicants in the Undergraduate of the Year 2014 competition, Gabrielle gained her top ten status based on her grades, a series of essays, interviews and project presentations.
Apart from looking great on her CV, the accolade puts her in with a chance to win a  paid summer internship with engine manufacturers Rolls Royce.
Already a winner in our eyes, she'll join the rest of the top ten female undergraduates (and fellow UCL Mech Eng second year Douglas Stridsberg) to find out her fate while being feted at an awards ceremony on April 25th in Canary Wharf.
We caught up with Gabrielle, well Gaby, (her full name sometimes makes her feel like she's being scolded) to ask her one or two things.
What made you want to study engineering?
I was raised as a problem solver, and I have a family background in the area that meant I didn't really question it. I always loved Physics and Maths.
Tell us a little about that family background
My parents are from Montreal, Canada. My dad is a nuclear engineer who moved to California to start the first public company that sold solar panels in the 1980's. After that he moved to Prague following the end of Communism – this was a time of innovation, all the turbines and gas power plants were being completely renewed. He was employed by their government to work on this and make it efficient. I then lived in France with my mother.
So why did you choose to study at UCL?
I wanted to study in England. It's one of the best universities in the world and it seemed the natural progression from the International Baccalaureate.
What's your career ambition?
I am really interested in renewable energy – this seems to be the future of engineering. I'd like to get involved in that.
Tell us about the project you presented in the competition.
I am really interested in clean energy, renewable energy and sustainable energy. The title of my project is to 'Light up Africa'. There are lots of problems in Africa but the provision of wells, and water pumps, so that villages can have clean water without having to walk miles, is one that captured my attention. So my project is about finding a way of getting sustainable energy to these places so that they can have light.
I also had to do three short essays; One on "My greatest achievement", one about leadership and team-building, and one about female leaders that inspire and change business.
And which female leader inspired you?
A really cool lady who was the first female student accepted at the Massachusetts Institute of Technology (MIT) and she was a pioneer at getting women accepted at science universities. Her name was Ellen Swallow Richards. She started a lab at MIT that was women-only and forced the university to acknowledge scientific success was not just for men. She did a lot of work around safe water practices, which obviously relates to my project.
Tell us about being a female undergraduate in a course dominated by young men.
It's not as bad as some people might think. I get along well with guys – less drama, less cat-fights which is good and I do have (female) friends outside of the course. We are at least five girls in my cohort and being surrounded by guys makes us even better friends.
Is the course more challenging than you thought it would be?
There's a lot of coursework – but you know you deserve your holidays! Work hard, play hard.
Why do you think there are so few female students in mechanical engineering?
I think it's a lack of information – people think mechanical engineering is working on cars but it's not. Mechanical engineering opens the door to so many aspects of business – energy, product design, so many things!
You'd want to encourage more women to get involved?
Yeah, definitely. It's a rewarding course. It's things that you see and know about; how a plane flies, how a car works, turbines. I think that's exciting and it opens your mind.
You understand the world around you, and you know how to change it…
Exactly!
…and if you were talking to young women, say 14 year olds, about what you are doing, what would you say to them?
I think explaining some of the misconceptions and showing what engineers do – the way they influence the world around us. Everything you see has been in the hands of an engineer at some point.
Last modified on