James Cook awarded for his Bright Idea
Third year undergraduate James Cook has received a £15000 award to help develop a 3d printed helmet into a viable business.
James was presented with his Bright Idea award in last week's lavish Oscar-style UCL Enterprise Awards which celebrates and encourages entrepreneurship and corporate collaborations within the academic community.
Reacting to the award James said, "I am very proud to have been recognised by UCL and it was awesome to be amongst UCL's buzzing entrepreneurial environment. The support for this project from within and outside the department has been inspiring. In particular, I would like to thank Prof Mark Miodownik, Dr Tim Baker, Philip Jeavons and Desktop Engineering (DTE)."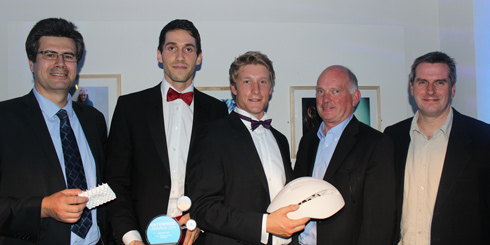 From left: Prof Yiannis Ventikos, Andrew Negris, James Cook, Geoff Haines (of DTE) and Dr Tim Baker
James is working with business partner, friend and UCL MechEng 2010 alumnus Andrew Nergis to develop start up company Bentham 3D, aiming to produce 3D printed helmets designed to be safer than those currently commercially available.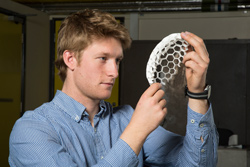 Mission
"The mission for Bentham 3d is clear – to make the safest cycling helmet. To achieve that goal, we will look beyond what we know is possible and apply our best thinking to create a helmet that is remarkably light and simple but above all safe."
Away from tinkering with Catia and an accelerometer in the Roberts basement, James is captain of the University of London rowing team. No stranger to awards, he collected the Parmigiani spirit awards last year.
After the enterprise ceremony he was personally congratulated by Head of Department Prof Yiannis Ventikos and UCL President and Provost Michael Arthur, who takes a very keen interest in the progress of Bentham 3D.
The Bright Ideas Awards are awarded to companies that are being created by UCL undergraduate and post-graduate students.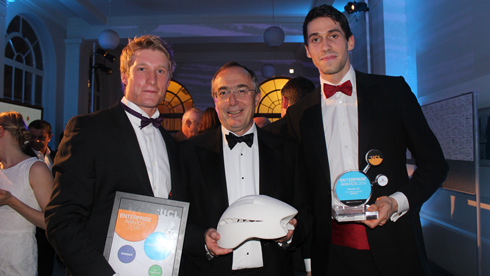 Bentham 3D partners are congratulated by Provost Michael Arthur
Last modified on