Leverhulme Fellowship allows Vanessa Diaz to "imagine the impossible"
Dr Vanessa Diaz awarded Leverhulme Trust Fellowship
Research will focus on modelling atherosclerosis.
UCL Mechanical Engineering Senior Lecturer Dr Vanessa Diaz has been awarded a prestigious Leverhulme Trust Senior Research Fellowship. The fellowship will fund research that could lead to better insight on the structural uncertainty of multiscale models.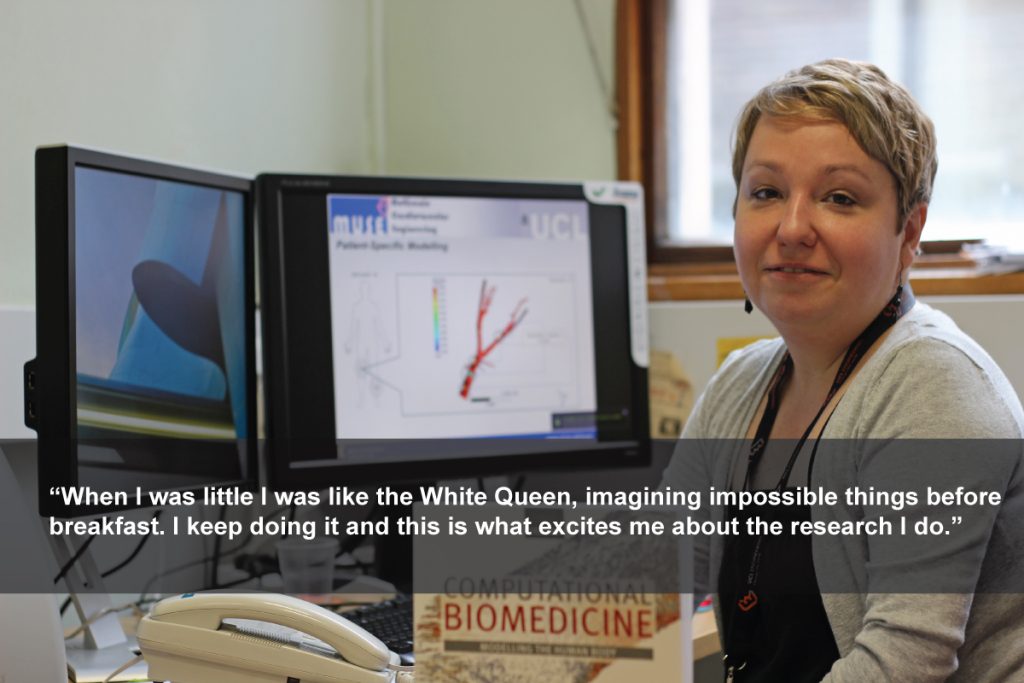 The trust funds original and important research of outstanding scholarship across a range of disciplines. Fellowships are awarded to researchers based on the proposed research's significance and relevance outside their individual field, the potential to excite colleagues in other disciplines and the quality of the research design and methodology. With these criterion, needless to say Dr Diaz is proud to have been successful.
The funding will afford the senior lecturer additional scope to focus on research activities. The MUSE research group which she leads builds and investigates formal mathematical models which allow them to "explore the unknowable" using simulations.
Structural uncertainty
Diaz explains "A mathematical model is just a representation of reality but it's always less than the real thing. You are trying to capture in mathematics what your understanding is but it will always be less complex than the real world. The incredibly complexity of the real world means, simply, that there is information you are not inputting and that's what we call a "structural uncertainty": something within the model which is not capturing the reality due basically to the model being inadequate, which comes from the lack of knowledge of the underlying true physics or biology, or chemistry (or all combined).
Impossible puzzle
You know that a piece of the puzzle is missing…the tricky part is that you don't know what! Seems like a catch-22 situation: how do you unravel the mysteries of something that you don't even know what it is or where it is, or even, if it is there at all!? Seems like an impossible thing to do, right? You either stumble upon it (which isn't very reliable or efficient) or propose a more systematic way to do it. That's what I intend to do.
I will be using evolutionary algorithms with a twist, to try to reach a solution to identify little bits and pieces of the model that might be missing. It will be like being in darkness and I will be using these simulation tools as a faint light to give me a glimpse of the reality behind this veil of mystery.  Hopefully, these fragments of reality will be enough to give me a good idea of what the whole puzzle will look like."
Atherosclerosis
What particular puzzle will she focus on?  "I'm going to work on the specific application of atherosclerosis, a chronic disease we all have. It's been identified even in babies. The problem is not whether we have it or not, the problem is how fast it progresses and it has many clinical manifestations (including strokes and heart attacks).
It's basically a blockage in your artery and from a biological point of view, a very complex process to understand, happening at multiple biological and time scales simultaneously, with many unknowns and lots of things that haven't even been discovered yet. It is the perfectly impossible problem to be tackled by the seemingly impossible technique.  This is quite a match."
The "White Queen"
Dreaming up difficult challenges has been something of a lifelong trait for Dr Diaz. "One of my teachers used to tell me when I was little that I was like the White Queen (from "Through the Looking Glass"), imagining impossible things before breakfast. I keep doing it, you know and this is what excites me about the research I do."
The new Leverhulme Fellowship follows last year's blue skies research funding for Diaz and her team, in the form of a Marie Curie Initial Training Network (ITN) award from the European Commission.
Honourable mention for MUSE paper
In other news, the journal Computers in Biology and Medicine recently lauded a paper co-authored by Diaz, as one of its best of the year. An in silico case study of idiopathic dilated cardiomyopathy via a multi-scale model of the cardiovascular system.(Bhattacharya-Ghosh B, Bozkurt S, Rutten MC, van de Vosse FN, Díaz-Zuccarini V.) published in April 2014, was deemed an Honourable Mention Paper (Top 10%), by the editorial board of the Elsevier Journal.
Links
Last modified on