Mark Miodownik receives AAAS Public Engagement with Science Award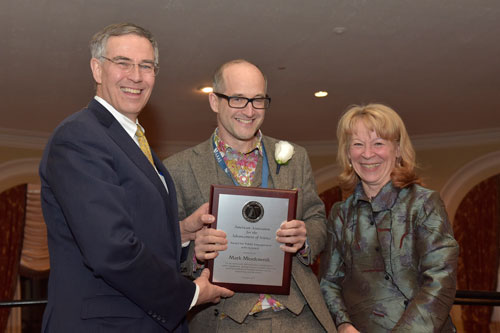 UCL materials scientist and engineer scoops prestigious public engagement prize from the AAAS
Second US award for the best-selling 'Stuff Matters' author
Mark Miodownik with AAAS Chief Executive Officer Rush Holt (left) and President Geri Richmond (right) Photo Courtesy Boston Atlantic Photograpy 
Mark Miodownik, Professor of Materials and Society at UCL Mechanical Engineering has received the 2015 Public Engagement with Science Award from world's largest general scientific society, The American Association for the Advancement of Science (AAAS).
The AAAS, which also publishes the prestigious journal 'Science', honoured Mark in a Washington DC ceremony on Friday evening during the association's 182nd Annual General Meeting.
Commitment to public engagement
The prize was awarded in recognition of "his enthusiastic and successful commitment to public engagement, igniting a sense of wonder about the world by unveiling the interplay between science, engineering, and the society."
Reacting to the announcement of his award, Mark, as ever, shared the glory with his UCL colleagues saying, "I am so thrilled that our work here, and it is always a team effort, has been recognised by such an important American organisation".
Professor Yiannis Ventikos Head of Department at UCL Mechanical Engineering said,
"It is a tremendous achievement and a much deserved honour for Mark to be honoured in such a resounding manner by the AAAS. Professor Miodownik is no stranger to awards and accolades of course, but something like this, coming from the other side of the Atlantic, makes the UCL community as a whole and especially the Department of Mechanical Engineering, very proud."
String of recent honours
The AAAS award is one more in a string of recent honours for the material scientist, lecturer, broadcaster and author, who also heads UCL's Institute of Making.
In 2013 he won the Royal Academy of Engineering Rooke Medal. In 2014 he was elected a Fellow of the Royal Academy of Engineering. Mark also won the Royal Society Winton Prize for the popular and personal material science book Stuff Matters, the American version of which has become a New York Times bestseller, perhaps not hurt byBill Gate's blog extolling its virtues. 
In September 2015, Stuff Matters won the Best Book Award in the communications awards from the (US) National Academies of Science, Engineering and Medicine.
Latest paper
Closer to home, his most recent research publication, 'Fabrication of bespoke nasal septal scaffolds'  is a collaboration with fellow materials scientist and Royal Academy of Engineering Fellow Professor Mohan Edirisinghe, Richard Thorogate and S H Hashimdeen.
Links
Last modified on