MechEng researcher/alumni scoop prestigious international naval awards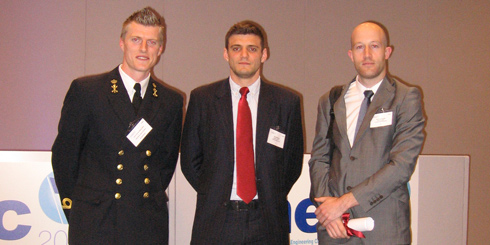 From left: Sub Lt Jordy van de Mheen, Ian Whitelegg and Dominic Burger
The duo received a £2500 runner up prize for their paper 'A comparison of energy storage methods for conventional diesel-electric submarines' in the Sir Donald Gosling award, for authors under 35, at the International Naval Engineering Conference (INEC) held in Amsterdam in May.
The successful paper was based on an award-winning tool for designing submarine power systems, developed by Jordy as part of the MSc course he completed in 2013.
Jordy, now a junior engineering officer on Royal Netherlands Navy submarine HNLMS Walrus said, "I was honoured for the opportunity to present at such a professional conference as the INEC. We were hopeful when we finished the paper, but when we saw the high level papers and presentations of other authors, we didn't expect a prize at all."
Collaborator Ian Whitelegg, studying for his PhD in ship electrical systems, had been more confident. Ian said, "To receive recognition from such an audience is great. It was a genuine honour to be asked to co-author the paper on Jordy's outstanding work. The tool Jordy created is currently being used by the Dutch Navy and on the UCL submarine design course. I'm sure future students will continue to develop it."
The pair thanked Professor Richard Bucknall, who directs the department's MSc's in Marine Engineering and Power Systems and who supervised the original award-winning project and the newly-feted paper.
Prof Bucknall in turn said "Jordy and Ian are outstanding students who have made real and useful contributions to marine engineering science and to submarine design. They are true ambassadors for UCL."
Making the category something of a UCL 'sweep', the first prize £5000 in the category was also awarded to a UCL MechEng alumnus, Dominic Burger, now of Naval Design Partnership, for his paper 'Unmanned Naval Aviation and its Impact on Future Carrier Design.' 
Last modified on