Meet Top Ten Douglas
Stop us if you've heard this one before. UCL Mechanical Engineering student makes the top ten in the Undergraduate of the Year 2014 competition. Like London buses, they seem to come in twos.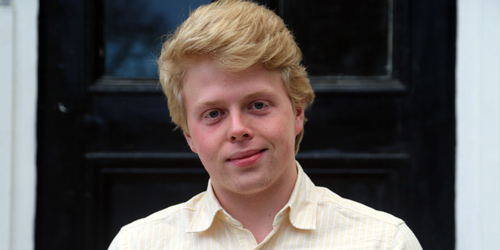 Now in the second of his four year degree, Douglas Stridsberg will need to get in his "Sunday best" and join nine other UK-based engineering students, as well as fellow Undergraduate of the Year nominee Gabrielle Bourret-Sicotte, for the award ceremony on April 25th.
The winner will be given the chance to work for a year as a paid intern at "big six" energy giant E.ON.
Douglas' face will also become a very familiar one to prospective UCL Mechanical Engineering students, as he represents the department in the recently-released university prospectus for 2015.
How do you feel about making the top ten?
It feels great to be recognised, as the application process and ensuing assessment centre was long and strenuous. I am now looking forward to attending the gala at Canary Wharf to hear who receives the prizes! Regardless of whether or not I finally win the prize, I will be very happy with the experience I have gained from it all!
What made you apply?
The name of the competition says it all — to be named the best engineering undergraduate in the country is very prestigious and alluring.
I have been interested in the energy sector for a long time, too, and the potential of working at such a large, global energy company that puts a great emphasis on renewable sources of energy was very tempting.
What's the competition like?
The competition is fierce and comes from all kinds of engineers across the UK so as long as they are not in their final year. This means there are potentially many thousands of students competing for the award.
After a long, demanding application process involving numerous mini-essays, tests and other measures designed to catch people out, 20 of us were invited to a day-long assessment at E.ON's Engineering Academy in Ratcliffe. It's a really cool place actually, where they train their engineers.
What made you want to study engineering in the first place?
I have long had a passion for technology and engineering and so studying that at university was an obvious. The fact that UCL is one of the world's best universities, coupled with the fact that the subject of mechanical engineering is very demanding, made it an obvious choice for me.
Why did you choose to study at UCL?
UCL is one of the absolutely best and most prestigious universities in the world, currently. It also has a long-standing heritage of openness, tolerance and equality towards all people. In addition to all of this, its location at the very heart of such a buzzing city makes it a great choice over other, very good, but very remote, universities.
Tell us a little about your family background
My little sister is a freshman at Northeastern University in Boston, MA, studying Civil and Environmental Sciences. She's enjoying her degree and I'm very happy she too is studying engineering! My mother studied economics at university and my father studied engineering at high school. My entire family is now based in the States, and I try to visit them as much as I can!
We thought you were from Sweden…
I was born in Tokyo, Japan, because my father was working there at the time. We lived there for three years before moving to Geneva, Switzerland, again thanks to my father's employment. We eventually made our way to Sweden where I lived for ten years before moving to London for my studies.
A real "citizen of the world" then?
I've been very fortunate to have traveled a lot in my life, yes.
Links
Last modified on