Miodownik wins Royal Society Faraday Prize and Lecture
UCL Professor of Materials and Society, Mark Miodownik joins a list of public science luminaries in winning the Royal Society Michael Faraday Prize and Lecture for 2017.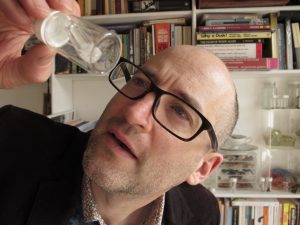 The materials scientist, author, broadcaster and director of UCL's Institute of Making wins the 2017 prize, awarded in previous years to Richard Dawkins, Steve Jones, Sir David Attenborough and Brian Cox, amongst others.
Named after the influential 19th century inventor, the prize is awarded to scientists and engineers for their expertise in communicating scientific ideas to the wider public.
Professor Russell Foster, chair of the Royal Society's Public Engagement Committee said;
"Professor Miodownik represents the excellent calibre of public engagement that the Michael Faraday Prize aims to celebrate. Not only is he a highly published researcher, he is also an active broadcaster, accomplished public speaker and award-winning author."
Congratulating Mark on this latest in a string of accolades, in the wake of his acclaimed, accessible materials science book 'Stuff Matters', Dean of UCL Engineering Professor Nigel Titchener-Hooker said;
"The award of the prestigious Faraday Prize to Mark is testament not only to his skills as a communicator but also to his exceptional vison and perception of what engages the public and why. He is a natural and effortless presenter who enthrals his audience with a passion and charm that is infectious. It is a delight to work with him. We are all immensely proud of what he has achieved."
Miodownik joins UCL colleagues Dr Nick Lane and Professor Andrea Sella, winners in 2016 and 2014 respectively, in an impressive list of science communicators.
In addition to his work in academia, Mark regularly gives popular talks on engineering and materials science to tv, radio, festival, and school audiences. He gave the Royal Institution Christmas Lectures in 2010, writes a column for The Observer, and presents science and engineering programmes on BBC TV. His enthusiastic presentation style was recently on display in BBC Four's 'Secrets of the Super Elements', a documentary shot entirely on a mobile phone.
Delighted with the Royal Society honour Mark said;
"I don't engage with the public to win awards, I am driven by the pure pleasure of it, so to win such as high honour as a result, is like cream on the cake."
Last modified on