MUSE team wins Marie Curie 'blue skies' research funding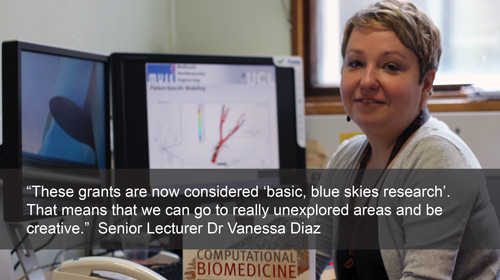 The MUSE research group, led by Dr Vanessa Diaz, has won some € 550k funding in a Marie Curie Initial Training Network (ITN) award from the European Commission. The funding for the UCL Mechanical Engineering-based team comes as part of a €3.7m funding award to a consortium lead by the University of Sheffield.
The award will fund research over the next four years (2015-2019) into VPH-Cardiovascular Simulation and Experimentation for Personalised Medical Devices or 'VPH CaSE'.
The consortium combines the expertise of nine core beneficiaries (five academic and four industrial) and 10 Partners (5 clinical, 4 industrial, 1 academic), all centres of excellence in cardiovascular engineering. They won having faced very stiff competition from research groupings across Europe.
UCL Mechanical Engineering Senior Lecturer Dr Vanessa Diaz:
"We were very confident that we had an excellent project in the making but I was a bit deflated when I learned there were more than 1000 proposals submitted (1003 to be exact), I thought to myself: 'oh well…it was nice to give it a go'.
When we heard the news that our grant was awarded, I was over the moon…which was followed by a sense of dread of course. I thought to myself 'this is amazing…'  and then 20 seconds later I thought 'oh God, we have only four years to do all this…'. However I'm really positive because this is a very well designed project and we will develop (within my group) many useful contacts for future projects; we will also try quite a few things that haven't been done before."
VPH CaSE is focused on state-of-the-art developments in personalised cardiovascular support, underpinned by simulation and experimentation, building on the foundations ofthe Virtual Physiological Human (VPH) Initiative.
The research project will focus on three areas; cardiac tissue function and cardiac support, cardiovascular haemodynamics – pathology and intervention and image-based diagnosis and imaging quality assurance.
In terms of potential medium-term public impact of the research, Dr Diaz said; "On one hand, some of the models will help to validate experimental platforms that are used in the development of novel medical devices and on the other hand, some of the research activities (including one of mine) will closely collaborate with Industry.
In my case, we're aiming at producing better, faster simulations for personalised aortic problems that will become part of clinical decision-making software.  Some of these developments will be in a sensible shape in four years, others will take longer and some…much longer!
These grants are now considered 'basic, blue skies research'. That means that we can go to really unexplored areas and be creative.  All this within the constraints of delivering very tangible 'outcomes' in the end, so…that balance needs to be managed right.
That'll be my job, to be the 'killjoy', so…wish me good luck!"
Last modified on