In pictures: SET for Britain 2014
UCL Mechanical Engineering was well represented at this year's SET for Britain poster competition for early stage researchers, hosted by the Parliamentary and Scientific Committee. The 2014 event, held yesterday in the Palace of Westminster's riverside terrace, seeks to celebrate cutting edge British based research in Science, Technology, Engineering and Mathematics. (STEM)
Senior Research Associate Dr Paul Hellier on designing sustainable advanced fuelsfrom genetically engineered cyanobacteria. Meanwhile, PhD student Ajmal Gharib showcased his research (a collaboration between Mechanical and Electronic and Electrical engineering departments) into reducing electromagnetic interference onboard ships from early design stages.
Paul said, "I am very excited to be presenting my work at such a prestigious venue as the Palace of Westminster.  I hope that my research can influence some of the decisions that will be made here in the near future."
While UCL's engineering faculty as a whole was strongly represented with six posters, Oxford University's Stephen Hicks claimed the gold medal for his assistive technology poster "Smart glasses to help the blind to see".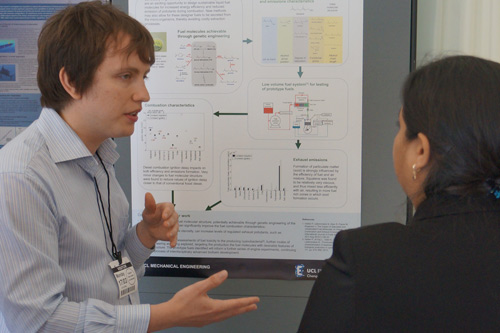 Dr Paul Hellier explains the development of fuel from cyanobacteria.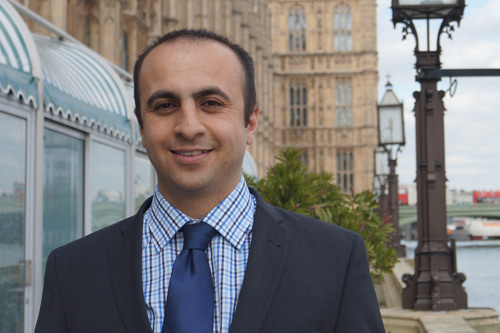 Ajmal Gharib enjoys spring sunshine on the Palace of Westminster's terrace.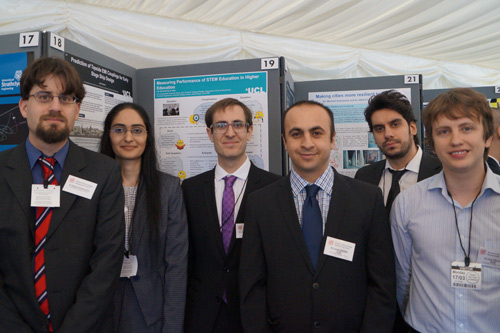 UCL Engineering's research was well represented in Parliament.
Links
Last modified on