Prized naval architect Jeom Kee Paik joins UCL MechEng team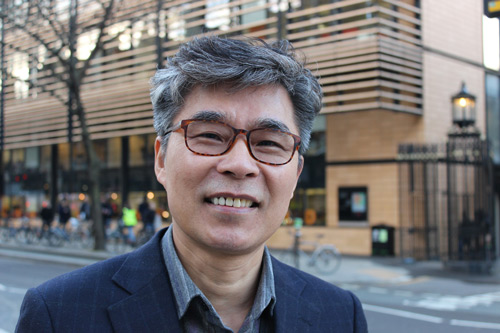 Professor Jeom Kee Paik, whose research interests are safety studies and design of ships and offshore structures associated with extreme and accidental conditions, will work within the department's renown Naval Architecture and Marine Engineering (NAME) section.
Professor Paik will divide his time between UCL and Pusan National University in his native Republic of Korea and foster a range of research collaborations between the two universities. He is currently in charge of a Korean state-funded project with the budget of some US $100M to build marine test infrastructures.
On joining UCL Professor Paik said;
"I am very excited to join UCL which is well known as one of the most prestigious universities in the world. While I will be very pleased to share my insights and experience with UCL students and staff members, I am also keen to learn new ideas and visionary strategies from them. When we are working on smaller scales, much can be achieved in isolation but for the larger scale challenges in our field, we need all the benefits of collaboration and partnership. I am very keen to collaborate with my fellow UCL colleagues in terms of research and related activities."
Welcome
Welcoming his new colleague to the department, Kennedy Professor of Mechanical Engineering Yiannis Ventikos said;
"I feel truly privileged to welcome Professor Jeom Kee Paik who is joining us, on a part-time basis, from Pusan National University. Professor Paik is a marine technology world leader; in the most emphatic sense of the term; who has made ground-breaking contributions both in the basic science of the field but also in the translation of techniques to practice.
His outstanding record in academia and tech transfer is second to none, and we are delighted to have him at UCL. We expect that his unique insight and his connections with the strongest ship-building industry in the world will be of great benefit to our department and our students."
Outstanding record
A fellow and vice president of the U.S. Society of Naval Architects and Marine Engineers (SNAME), and a fellow and council member of the U.K. Royal Institution of Naval Architects (RINA), Paik has a stellar reputation in the world of Naval Architecture and Marine Engineering. Professor Paik has been awarded, amongst many other accolades;
The David W. Taylor Medal from SNAME(USA)
The Order of Science and Technology Merits from President of Republic of Korea
An Doctor Honoris Causa (Honorary Doctorate) from the University of Liege, Belgium
Paik Prize
In a very special honour for a living figure, RINA recently announced that a new award has been named for Professor Paik, himself a five-time winner of their Best Paper award.
The Jeom Kee Paik Prize, which will be awarded each year for the best paper on structures published by a researcher under 30, is the first such prize to be named for a non-Briton in the 155-year-history of RINA.
Last modified on