Royal Navy honours Dan Hall with YARD Prize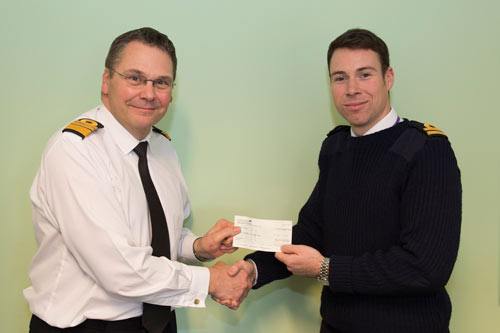 The UK Royal Navy has honored recent UCL MechEng student Lt Daniel Hall RN with the Navy's YARD Prize 2014.
The prize is awarded to the most impressive RN student on the UCL Marine Engineering/Naval Architecture MSc and was presented to Dan by Vice Admiral Simon Lister CB CBE, Chief Naval Engineer Officer.
Now working in the Navy's Submarines' Nuclear Propulsion Team, Daniel read an MSc in Marine Engineering receiving a distinction and a place on the Dean's List.
How does it feel to win the award?
I was very honoured to win. My aim from the beginning was to do as well as I could, in order to prove to myself that I could achieve a strong performance on an academically challenging course.
You achieved a high standard on a demanding MSc course. Any tips for the current or future cohorts?
Start each piece of work as soon as possible. This is particularly pertinent to coursework, the final submission dates of which can be as little as one week before the start of exams.
I would not have achieved as much as I did without the help of the Marine Engineering academic staff, particularly Professor (Richard) Bucknall and the research assistants; Lucy, Ian, Nick and Colin. Although the MSc is an individual course, I think a strong team work ethos within the Marine Engineering MSc course was extremely beneficial to all of us.
What can you tell us about your design project?
I was part of a mixed team of Marine Engineers (Mechanical and Electrical) and Naval Architects who designed in intra-theatre troop transport for the purpose of rapidly ferrying troops from one theatre of operations to another. This was a very enjoyable project that allowed us to be very innovative while utilising the information we had learned during the first six months of modular learning. Again, a good team ethos was fundamental to this project C
Can you summarize what you got out of studying your Masters?
Having not worked as hard as I should have during my Bachelor's Degree, the main thing I got out of completing my MSc at UCL was the satisfaction of proving to myself that I am capable of this level of academic achievement. Alongside this, I had a thoroughly enjoyable and challenging year from which I have some irreplaceable memories and some new lifelong friendships.
Now you're smack back into the world of MOD work from the somewhat unreal world of academia. How has the transition been?
Coming back into the MOD after a year at UCL has involved several changes, not least of which is a move to a new city. However, the primary change has been the shift from assimilating new academic information to the application of my knowledge and experience in a real world environment.
What was your motivation for joining the Navy in the first place?
I originally joined the Royal Navy because I wanted to pursue a challenging career in engineering that would also allow me to travel. Operating a Nuclear Reactor underwater and occasionally visiting far flung foreign ports seemed to fit this bill quite nicely.
 What are your medium term career ambitions?
In the future my aim is to fulfil the role as the head of the Marine Engineering Department in a sea going submarine.
Now that your studies are over, for the moment at least, when you are not working you…
Once my thesis was submitted, my fiancé immediately re-tasked me to wedding planning, which has subsequently been the main focus of my time outside of work.
Last modified on