Six days, seven nights: my week as a Royal Navy submariner by Lucy Collins
The Royal Navy announced its first three female submariners yesterday, with Defence Secretary Philip Hammond hailing this as "an historic moment for the Royal Navy and our armed forces".
One of a tiny elite of women with submarine seatime, research assistant Lucy Collins, who works in the Naval Architecture and Marine Engineering office in UCL Mechanical Engineering, was also awarded her honorary "dolphins". 
Lucy, currently researching aspects of submarine design for her doctoral thesis, spent a week in Trafalgar class sub, sailing from HMNB Faslane in Glasgow to HMNB Plymouth last Christmas. Here she shares her dramatic experiences on board, drawn from her submarine diary.
So what's it like on-board? Dolphin spotting… but not as we know it….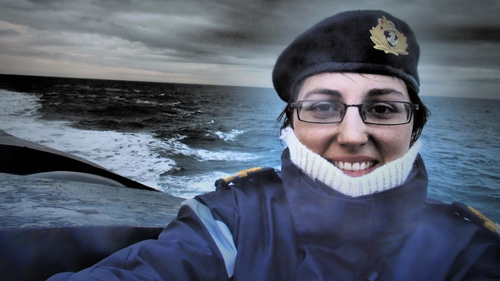 Day 1: All board
After three programming changes and a flight reschedule I finally made it to Glasgow. Was picked up at the airport by the Assistant Marine Engineering Officer Ships AMEO(S), who drove me to the Naval Base where we had dinner and headed on-board for the night. I had to pick up my dosimetry device (monitors radiation levels) and sign in and then I was on! It was very quiet on board as it was the night before we sailed and most sailors were staying on land. Met the Captain. Had a brief tour of the boat and learnt how to put on an Emergency Breathing System mask in case of fire. Watched a film in the wardroom. Went to sleep at 12 and got about six hours.
I was given the Executive Officer's cabin (second in command) who normally shares with the Weapons Engineering Officer, this was a very small room with a bunk bed and desk and no door – just a curtain. All the officers share a bathroom with a shower and two toilets – they installed a lock on the door just for me. When we sailed there were 125 men on board… and me.
Day 2: Rolling in the deep
Breakfast at 0800hrs. Had a briefing at 1100 on the day's events. Weather is looking terrible and we're not going to be diving until tomorrow afternoon (a submarine is quite unstable on the surface but hardly feels any motions dived). We are going to sail on the surface for the first part of the journey. This will leave us overnight in up to 6m high waves in possibly beam seas. Walked round the boat for pre-sailing checks (everything stowed properly, lashed down etc.). For leaving the base we went to 'Harbour Stations' – where they set up a Damage Control HQ in the wardroom and monitor the whole boat from there – making sure no leaks are spotted, or fires, sound etc. – everything is running as it should be. After this, I went up on the bridge to have a look at the surface conditions. Had curry for dinner followed by ice-cream sandwiches. Woke up at 0400 due to extreme rolling (employed the seat belt on my bunk) – so only got about 4/5 hours sleep.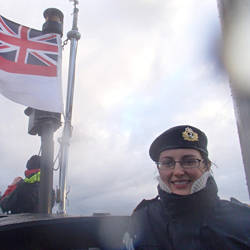 Day 3: 'A loud bang is heard'
Up at 0700hrs for the 0745 plan of the day meeting. At 0830 we had a 'heave' exercise to test the crews' skills in an emergency. The simulated incident was 'a loud bang is heard'. Again we set up a Damage Control HQ in the wardroom. Very fast paced and exciting as the Officers from the HQ and the other sailors around the boat first found the source and then solved the problem. Went on the bridge (no easy task in rough weather as it involves climbing up an 8m high vertical ladder in the dark) – got completely drenched due to all the spray. Put my clothes on the engines to dry. Felt seasick –took some pills. Had a nap and woke up for 'Dive Stations' but this has been delayed.
Extremely tired. Persuaded officers to watch 'Pitch Perfect'. Went to bed and got woken up by extreme weather – could hear things smashing in the wardroom, was getting dressed in the dark when a massive wave hit and a cupboard flew open and everything on the desk went flying. Got hit by something – turned the light on to find it was a rogue box of Ferrero Roche! Took them to the wardroom where the officers ate them (the rule on board is if you are in possession of chocolate it's yours). At 1am we dived the submarine and I was in the control room watching the action. Red lighting (so eyes are adjusted to see out of the periscope). Everyone quiet and ready for action. Was an exciting dive as the sub kept getting 'sucked' to the surface by the waves. Took almost an hour and a half to dive.
Day 4: Voyager
Breakfast at 0700. Today we are going to have an exercise with another submarine – we were 'Voyager' they were 'Enterprise' and the areas of operation were 'Janeway', 'Picard' and 'Kirk'. You can guess the theme. At 1240 we went to 'Action Stations' while we made contact with the other submarine for the start of the exercise. We communicate via an 'Underwater Telephone', that I got to use to communicate with the other submarine. The exercise went on until 0400hrs, over two and a half watches – I was the only one on board who stayed up for all of it. It was very exciting – we were mainly watching the sonar screens for activity and were distracted a couple of times by some dolphin pods.
Day 5: The Lost Buoy
Rude awakening at 0500hrs as we got hit by a massive wave to beam – everything went flying in the cabin again. We had come up to Periscope Depth and the weather was extremely rough – 11m high waves! When the wave hit we lost one of our indicator buoys (deployed in emergencies) and this led to an unscheduled test of the Royal Navy's emergency procedures: A Type 45 Destroyer was scrambled to look for us but we had dived again to avoid the rough weather. When we popped back up to Periscope Depth at 0900hrs a helicopter was circling the lost buoy! Not much else happened today – had another nap at 1600-1700hrs. Watched 'The Breakfast Club' after dinner.
Day 6: Spotting dolphins for Christmas
Christmas Day on-board (15th December). In the morning I 'had the con' (supervised by the Officer of the Watch') and saw lots of dolphins on the fin camera. No contacts apart from a fishing vessel – it was a Sunday and rough weather. At 1100hrs I went to the Christmas carol service – which was done by cyalume light (gl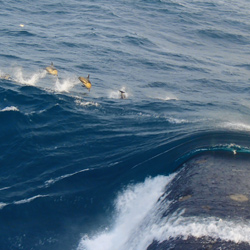 ow sticks used for night operations). At lunch the tradition is for the Officers to serve the Junior and Senior Rates – I helped serve the Senior Rates in the mess and the galley. At 1400 we surfaced the boat and I was allowed to do the pipe to the crew of; 'surfacing now, surfacing now' and was then part of the surface lookout team – the first people to open the hatch and go onto the bridge. Was dressed in foul weather gear.
Stayed up for a watch and a half – which officers were very impressed with. It was still very rough. I spotted a fishing vessel before anyone else. Saw loads of dolphins – at one point about eight were jumping in a line in front of the sub. I was on the bridge for sunset and to see the full moon. Felt queasy when I went below and took some more seasickness pills. I was invited to the Senior Rates mess for dinner – pizza night – but it was a struggle eating it after the Christmas dinner and seasickness! Lay down for an hour (1930 – 2030). Woke up, had some cake and watched 'Despicable Me'. Didn't sleep well as still rocky.
Day 7: Ashore
Got up around 0700hrs. Forgot to set my alarm so had to jump out of bed to get ready for breakfast. At 1130 a plan of the day meeting for entering Plymouth. Was on the bridge for entering harbour – a lot of fun.
When we pulled up alongside, I was awarded some 'honorary dolphins', along with an artist who was also on board, as well as a submariner who had qualified during the journey, receiving his official dolphins. This involves downing two fingers of rum with the dolphins in it and catching them in your teeth. I had no trouble but the other two struggled!
When I finally got on land, I still felt as though I was rocking from side to side – this lasted for about two weeks. I went for a 'run ashore' with the submariners, visiting bars in Plymouth until about 0230.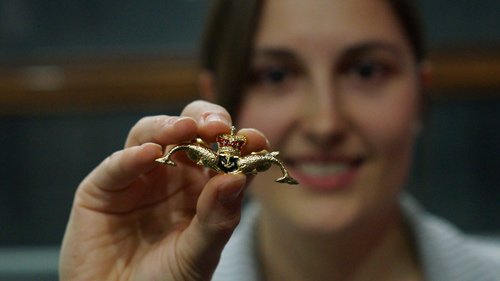 Links
Last modified on