UCL Mechanical Engineering Students make "Pedal Progress" with bamboo bicycle
Final year students Pranoy Choudhury, Safiyyah Farid, Avinash Javaji, Thomson Nguyen and K Kunju Raman, are the minds behind Pedal Progress – a three-wheeled bamboo bicycle and kit, to bring sustainable transport to the people who need it the most.
"We're looking at stimulating micro-economies and empowering them with an effective piece of engineering," said K Kunju Raman.
By giving rural communities the tools and knowledge to build their own cargo bicycles from bamboo plantations, Pedal Progress aims for long-term change.
"The solution we are offering is a long term solution," said Thomson Nguyen.
"We can basically have a set of bamboo dimensions and specific lengths and widths and give them the tools to make them overseas, so we don't have to ship this whole bike (from the UK) – that's our business pitch."
Originally designed to help farmers in rural Ethiopia, the bicycle was a hit at the recent UCL Mechanical Engineering Summer Session. It was also exhibited at the GUBA Expo last month, showcasing the best Africa inspired products in the UK.
The bicycle is functional and can carry a load of 120kg (and a driver on top) and a volume of 280L. Built primarily of bamboo, the bicycle hits a sweet spot between utility and cost-effectiveness – making it a viable option for transportation of cotton and other produce.
"Instead of having a cheap bike versus a truck which is very expensive, or even a motorbike, a cargo bike fits midway. You can still move more material than you can with a normal bike but less than a truck," said Pranoy.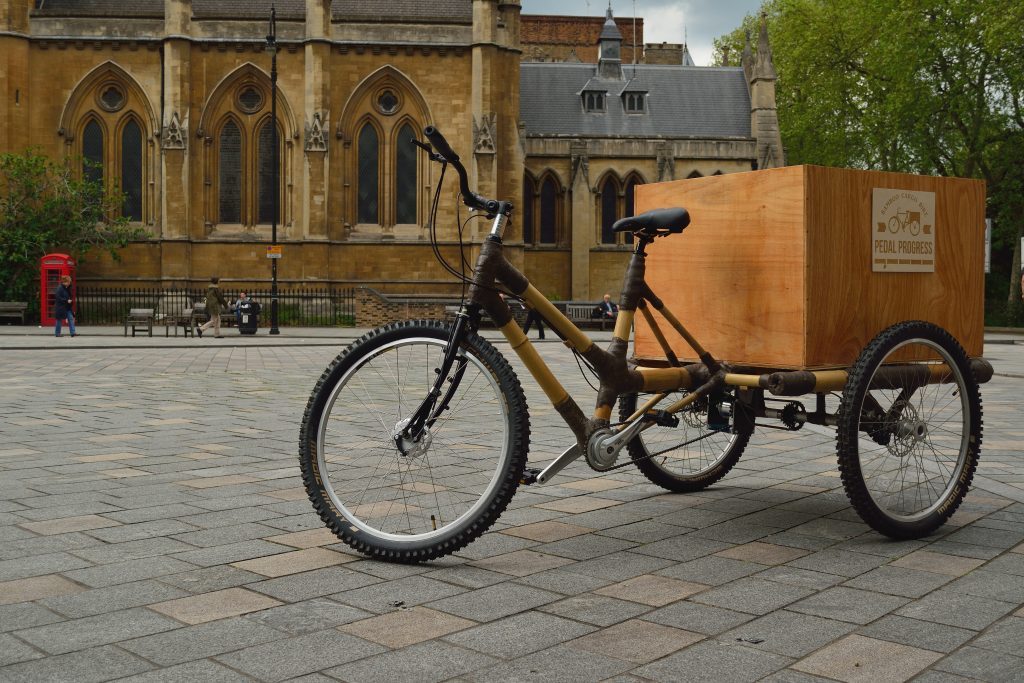 What's in a bamboo bicycle?
Three wide off-road tires – to maximize grip.
Safety, ease of use and high maintainability are ensured through the use of a multi-speed internal gear hub along with disc and drum breaks.
Components used are off-the-shelf parts, which are easily available in most target countries.
London's Bamboo Bicycle club assisted the UCL team, teaching and assisting them with bicycle building.
Unlike other materials that need special manufacturing processes, Bamboo is cheap and easy to grow.
"It can be grown anywhere in the world," said Safiyyah Farid.
In addition to its ubiquity and cost effectiveness, bamboo is strong and light.
"We ran a material analysis program against a number of materials. We tested bamboo, steel, aluminium, and various other materials like carbon fibre," said K Kunju.
"Bamboo came second, but it only came second to carbon fibre – which wasn't an option for us," said Avinash Javaji, "the goal is an environmentally friendly bike – and carbon fibre isn't a very environmentally friendly material"
"When we first started this project we underestimated the strength of Bamboo – when you you feel the joints (on the frame) – they're really, really stiff," said Thomson.
"Everything has to be done by hand, every joint. It takes time. So once you have that in place – we hemp it. What that means is we glue that into place so then we can put something much stronger on, then we get hemp cloth, use resin and wrap it around the joint – you let it dry for roughly a day and it gets fairly strong," said Avinash.
"We tend throughout the process to over-engineer things – so throughout the year we've learned how to mellow it down a little. If we do come back to assist the project in the future, our advice for the new group would be to slow it down and keep it simple," said Safiyyah.
"Personally I haven't made that many things before. I like engineering from the theory side but when we got the thing built and we got on it the first time – it was surreal," said Avinash.
The group hopes that Pedal Progress will be continued by and improved upon by next year's group.
"I think it's a really good start, I'm really proud of our start and everyone's been impressed with how the product and the project has turned out," said Avinash.
"It's probably one of the biggest bamboo bicycles built. One of the biggest ones in the UK, at least." said K Kunju.
"It's about progressing communities with a cheap and cost-effective bike," said Pranoy, "it can actually affect people's lives if it is implemented in the correct way."
Last modified on