UCL MechEng students head to Rotterdam with a Euro vision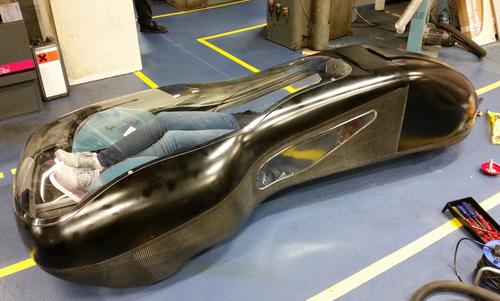 Never mind Eurovision. There is another big European competition coming up and UCL has a very stylish looking entry.
Team Hydrone, a group of fourth year mechanical engineering undergraduates are in Rotterdam, The Netherlands preparing to compete in the Shell Eco-marathon Europe this weekend.
The Eco-marathon is a competition of vehicles from all around the world, specifically designed for extreme fuel efficiency. In a massive showcase of environmentally-friendly engineering, teams compete on how far their vehicle could travel on a single litre of fuel.
Team Hydrone's entry into the European competition, "AB2", which they designed and built from scratch this academic year, is a single "seater" fibre-glass vehicle, powered by a Hydrogen fuel cell. Named for a former UCL MechEng professor, Alvin Blackie, the striking "Batman" style vehicle is also their final year project.
Drama
Getting AB2 ready in time, in the middle of exam season, caused some drama. Supplier problems meant team leader Omar, Aadil, Abdullah ,Saif and pilot Yomna worked with UCL Racing Team Principal Dr Tim Baker and UCL MechEng technicians late into the night this week, assembling the car in only two days.
A relieved Omar Gharaibeh said "Hydrone is a project which gives us hands on experience of what we've been studying these last few years. Everything's ready, we are doing our final touches on the car and now we're very excited and looking forward to it."
Meet the team at the Summer Session
You can meet the team, view the car and find out how Team Hydrone performed at theUCL MechEng Summer Session next week. The event at is a showcase of diverse engineering designs, with drinks, live music, dj's and more.
The Shell Eco Marathon Europe, celebrating it's 30th anniversary in 2015, will be held in "an iconic location" in London next year. Queen Elizabeth Olympic Park, maybe?
Team Hydrone
Aadil Johnson,
Abdullah Majali,
Omar Gharaibeh,
Saif Siddiki,
Yomna Farouk
Supervised by Professor Richard Bucknall
Last modified on