Unique naval design fellowship announced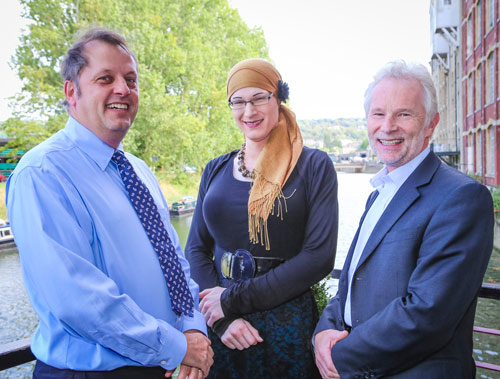 Dr Rachel Pawling of UCL Mechanical Engineering (centre) to be first BMT Defence Services Fellow
BMT Defence Services Ltd, a subsidiary of BMT Group Ltd, the leading international maritime design, engineering and risk management consultancy, has announced that it will be funding a Fellowship in Naval Design at University College London (UCL).
The Fellowship will strengthen the relationship between BMT and UCL by bringing the best of industry and academia together to promote and develop fundamental naval ship design research that can be applied directly to BMT's ship design products and services. There will also be the opportunity for BMT's engineers to benefit from professional development by working collaboratively with UCL on research projects and presenting joint papers.
Dr Rachel Pawling, a Post Graduate Researcher at UCL will be the first BMT Defence Services fellow. Dr Pawling has a wealth of experience in innovative ship and submarine design and several of her publications have received prestigious awards. Having been involved in a wide range of projects for industry and the Naval Design Partnership (UK Ministry of Defence), she has also worked with BMT in the past, including a number of highly successful European funded FP7 research projects.
The BMT Defence Services Naval Design Fellowship will run for a minimum of two years initially and will be the only research post of its type in the UK.
Muir Macdonald, Managing Director of BMT Defence Services commented: "The establishment of the BMT Defence Services Fellowship will help sustain our long standing and beneficial relationship with UCL. As well as the obvious benefits arising from technical knowledge transfer from UCL to BMT, the Fellowship aligns with BMT's stated aims of driving thought leadership, being committed to excellence, pushing the boundaries and investing in people"
David Andrews, Professor of Engineering Design at UCL and leading UCL's ship design research, commented: "Having direct links with industry is key to keeping UCL's work fresh and innovative. Our already strong relationship with BMT Defence Services will be strengthened further through the Naval Design Fellowship."
Photo courtesy of BMT: (left to right), Phil Green (Head of Research & Development, BMT Defence Services Ltd), Dr Rachel Pawling (UCL), Muir Macdonald (Managing Director, BMT Defence Services Ltd)
Links
Last modified on