Usher shines amongst Chinese stars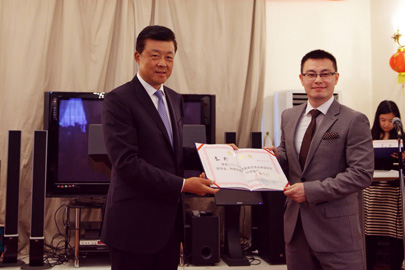 Yuan "Usher" Ye, a UCL PhD student, has won a prestigious Chinese Government award for Outstanding Self-financed Students Abroad 2013 in a ceremony at the Chinese embassy in Central London.
The award, founded in 2003, rewards academic excellence of Chinese PhD students studying in overseas universities without access to funding from the by the Chinese government. The Chinese Scholarship Council conferred a total of 28 awards, out of a total of 518 worldwide, to students studying in UK universities; Yuan Ye is the only awardee from UCL.
Usher, as he likes to be called, received a US$6000 (over £3,500) cash prize and certificate from Liu Xiaoming, Ambassador of the People's Republic of China to the United Kingdom, in the ceremony held in Portland Place last week.
A humble Usher said "I'm honoured. I can't say I deserve to receive this prize but I worked very hard on my research. As a Chinese overseas student I think I've had to overcome some difficulties, coming abroad to the UK to do research. It's like an adventure for me."
Usher has been conducting his doctoral research into blast resistant designs for structures at UCL Mechanical Engineering for the last three years, working in the High Strain Rate Laboratory with Dr. PJ Tan.
Usher; "I'd like to the thank my supervisor for his support and my friends and my parents for their support"
Usher now says he will invest his prize money into his continuing education.
Links
Last modified on