"and the winner is…" researchers Sherwood and Nithyanandan pick up prizes
Awards season extends to UCL Mechanical Engineering as former PhD student Dr Joseph Sherwood and current PhD student Anouska Nithyanandan both picked up research-based prizes recently.
Sherwood
Joseph won the MediMaton prize for 'best recent medical engineering PhD thesis' at the Institute of Mechanical Engineering (IMechE) 26th Annual Medical Engineering Student Project Competition, in a ceremony held at the institution's St James's Park headquarters last week. The award was for his thesis Blood velocity and viscosity in bifurcating microchannels.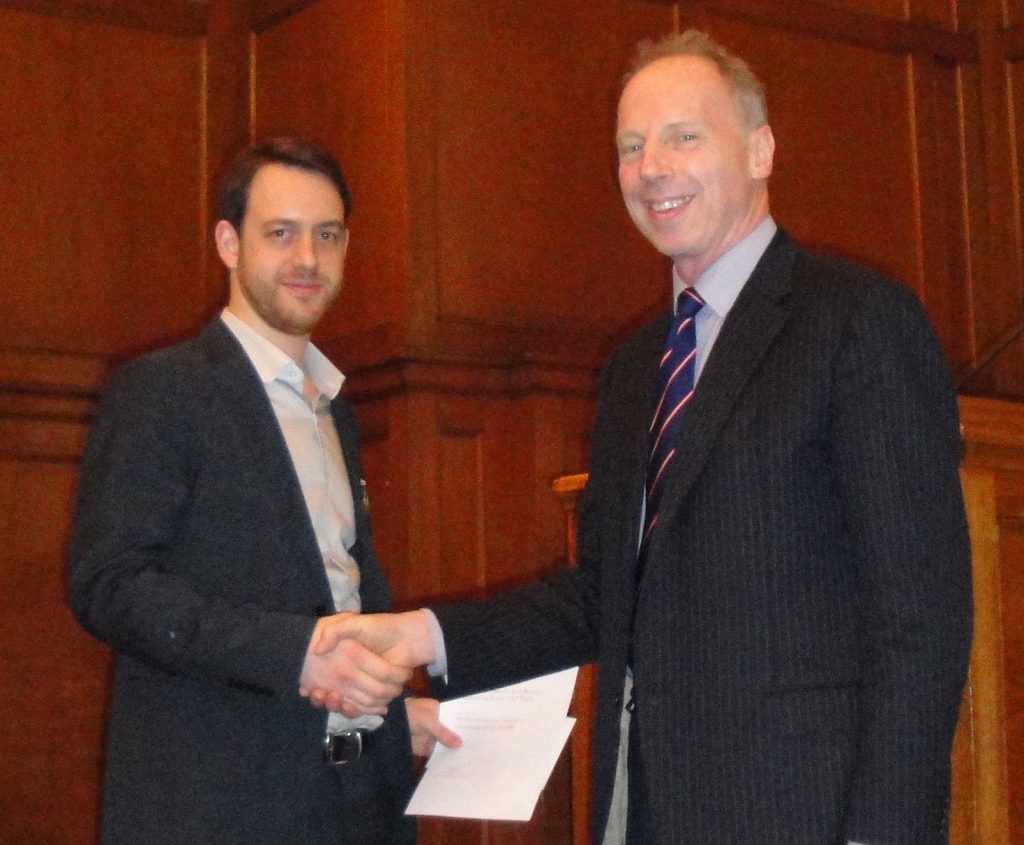 After receiving the prize Joseph acknowledged the efforts of his supervisor, Dr Stavroula Balabani; "I'm very happy to receive this prestigious award in recognition of my PhD research. I would like to thank Dr Balabani for her exceptional supervision and everyone else who supported me during the project."
He was awarded his PhD by UCL last July for this thesis, which also won the ERCOFTAC Osborne Reynolds Research Student award for the fluid dynamics element of his doctoral research.
Currently a research associate at Imperial Bioengineering, Joseph, (left, pictured here with MediMaton founder Dr Patrick Finlay) continues to collaborate with UCL Mechanical Engineering on various projects. His ambition is to remain within academia, conducting research and specialising in experimental biofluid dynamics.
Nithyanandan
Joseph's thesis win follows PhD student Anouska Nithyanandan's recent win of the London heat of the Institute of Materials, Minerals and Mining's (IOM3) Young Persons' Lecture Competition, hosted by London Materials Society in February.
The competition sees students and professionals under the age of 28 from around the world deliver 15-minute lectures, followed by a Q&A, on a materials, minerals, or mining-related subject.
Anouska's lecture, Bio-engineering Hip Replacements for the Future: An Introduction to TAEA Patterning, focused on the background and current research of her PhD work, sponsored by JRI Orthopaedics Ltd. via a UCL Impact Award.
TAEA
She outlined how new research is helping to design the hip replacements of the future through template assisted electrohydrodynamic atomisation (TAEA) patterning. TAEA is a novel and patented technique to coat orthopaedic implants, pioneered here at UCL in Prof Mohan Edirisinghe's Biomaterials Processing & Forming Laboratory.
TAEA can be developed to provide increased capabilities; service life, quality and function of coated orthopaedic implants. This would mean shorter recovery times and fewer revision surgeries for patients.
In congratulating her, Anouska's doctoral supervisor Professor Mohan Edirisinghe said "I think Anouska has all the attributes necessary to make a good academic. She thinks about her work, delivers all her work very methodically, is motivated and, most importantly, can get her message across to any audience. She's a very good communicator."
Following her win, Anouska will now go on to compete at the South East regional final later this month. The winner will go on to the National Finals, followed by the World Lecture Competition Final in June. We wish her the very best of luck in her next round.
Links
Last modified on