Key Information
Qualification

MEng
UCAS code

H301
Institution

U80
Duration

4 years
This page is an introduction to this degree programme
This programme is accredited by the Institution of Mechanical Engineers (IMechE) on behalf of the Engineering Council for the purposes of fully meeting the academic requirement for registration as a Chartered Engineer for the 2014 -2021 student cohort intake.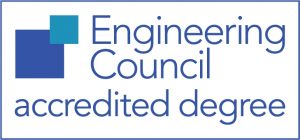 Introduction to the Engineering (Mechanical) MEng programme
The Engineering (Mechanical) MEng is a challenging four-year programme which will equip you with the analytical and design skills relevant to a wide range of careers. You will learn how to apply a deeper understanding of engineering principles to a range of real world challenges.  During your time at UCL Mechanical Engineering, you will be taught by world leading researchers.
Applying for the MEng rather than the three-year BEng allows you to fulfil the educational requirements for Chartered Engineer status with a single qualification. The programme concludes with a major group project, including the opportunity to design and building vehicles for international competitions like IMechE Formula Student and the Shell Eco-Marathon.
Integrated Engineering Programme
---
You will study mechanical engineering in the context of our Integrated Engineering Programme, giving you the opportunity to:
tackle practical engineering challenges throughout your programme
develop transferable professional skills
tailor your programme to your interests
study and collaborate with students in other engineering disciplines
Watch this IET video to learn more.
Career Options
---
Mechanical Engineering is a broad discipline which can lead you to pursue many different career paths. On completing your degree programme, you can choose from a variety of fields including:
aerospace
motor vehicle design
marine engineering
medical engineering
manufacturing
railways
The problem-solving, analytical skills you develop at UCL Mechanical Engineering will make you an attractive candidate for employers in many other fields.  These include commerce, banking, and management consultancy.
Have a Question?
---
Modules in the Engineering (Mechanical) MEng programme
Mechanical Engineering is a broad discipline requiring you to study a range of areas from mathematical modelling to material science. The module descriptions for this degree programme will give you a more detailed understanding of what you will study at UCL.
First Year
---
Second Year
You must select one minor. Information about the current minors is available on the Integrated Engineering Minors page.
---
Third Year
You will take two more modules, continuing your minor subject from year two.
Information about the current minors is available on the Integrated Engineering Programme Minors page.
One Level 7 module is taken in the third year to provide a greater choice of options in the fourth year.
---
Fourth Year
Fourth Year Options
You must choose 45 credits of optional modules. All modules are worth 15 credits unless stated otherwise. No more than one module (15 credits) may be at Level 6.
You must take at least one of the MEng-only optional modules MECH0074 Engineering in Extreme Environments and MECH0075 Health Assessment of Engineered Structures.
Due to timetabling limitations the following restrictions apply to certain combinations of modules:
You may only take ONE module from: MECH0055, MECH0047, MSIN0027
You may only take ONE module from: MECH0060, MECH0062
You may only take ONE module from: MECH0055, MECH0071
You may only take ONE module from: MECH0051, MECH0040
Please note: The choice of modules may be constrained by availability and timetabling.
Year in Industry
You may choose to take a year working in industry between the third and the fourth years of your MEng degree programme. Please note that:
this posting needs UCL approval in advance, and
you will be required to write a comprehensive report on your work and what you learn during the year.