Publication highlights:
Imaging intact human organs with local resolution of cellular structures using hierarchical phase-contrast tomography
Authors: C. L. Walsh, et al.
Journal: Nature Methods
DOI: 10.1038/s41592-021-01317-x
This paper presents a new synchrotron x-ray imaging technique, called Hierarchical Phase-Contrast Tomography (HiP-CT), which is used to span a previously poorly explored scale in our understanding of human anatomy, the micron to whole intact organ scale.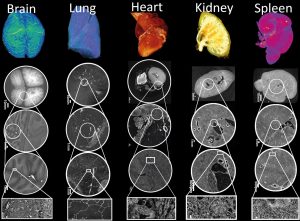 Human Organ Atlas, see videos at Gallery
The bronchial circulation in Covid-19 pneumonia
Authors: M. Ackermann, et al.
Journal: American Thoracic Society
DOI: 10.1164/rccm.202103-0594IM
This paper shows how COVID-19 disrupts the blood vessel network architecture of the lung, specifically we show cases of bronchio-pulmonary shunting in intact COVID-19 lung lobes.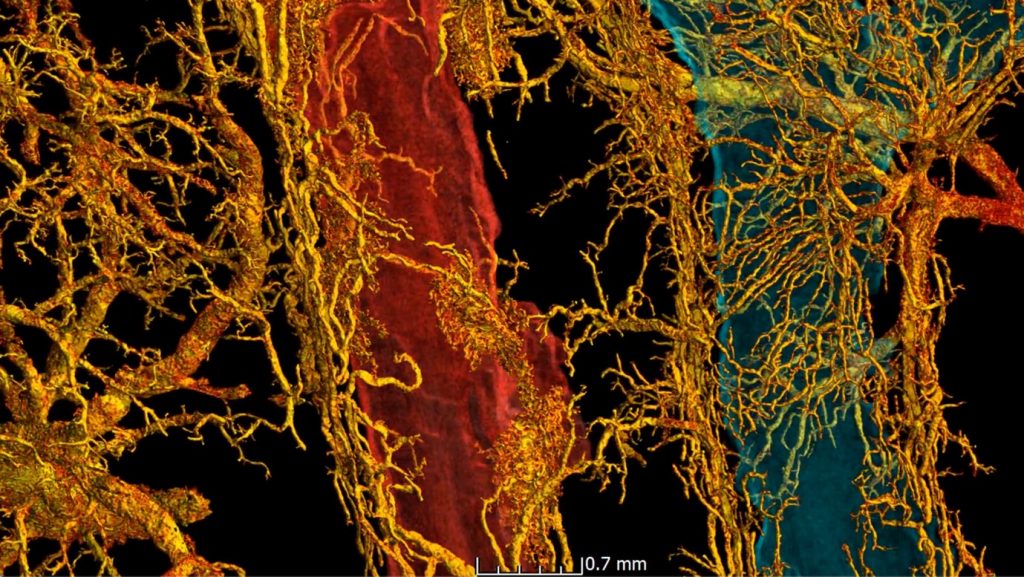 Bronchio-pulmonary shunting in a SARS-CoV-2 infected lung
The fatal trajectory of pulmonary COVID-19 is driven by lobular ischemia and fibrotic remodelling
Authors: M. Ackermann, et al.
Journal: eBioMedicine
DOI: 10.1016/j.ebiom.2022.104296
This paper identifies a link between the damage that severe Covid-19 can inflict on lungs and pulmonary fibrosis, a disease that causes severe scarring of lung tissue.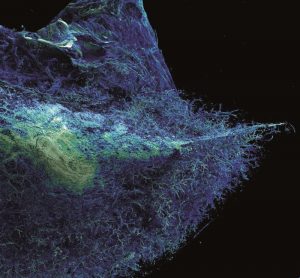 All Publications
Walsh, C. L., et al. "Imaging intact human organs with local resolution of cellular structures using hierarchical phase-contrast tomography." Nature methods 18.12 (2021): 1532-1541. DOI: 10.1038/s41592-021-01317-x
Ackermann, M., et al. "The bronchial circulation in COVID-19 pneumonia." American Journal of Respiratory and Critical Care Medicine 205.1 (2022): 121-125. DOI: 10.1164/rccm.202103-0594IM
Xian, R.P., et al. "A multiscale X-ray phase-contrast tomography dataset of a whole human left lung." Scientific Data 9, 264 (2022). DOI: 10.1038/s41597-022-01353-y
Jonigk, D., et al. "Pulmonary and Systemic Pathology in COVID-19: Holistic Pathological Analyses." Dtsch Arztebl Int 119 (2022): 429–35. DOI: 10.3238/arz-tebl.m2022.0231 (German) 10.3238/arztebl.m2022.0231 (English)
Ackermann, M., et al. "The fatal trajectory of pulmonary COVID-19 is driven by lobular ischemia and fibrotic remodelling." EBioMedicine 85 (2022): 104296. DOI: 10.1016/j.ebiom.2022.104296
Brunet, J., et al. "Preparation of large biological samples for high-resolution, hierarchical, synchrotron phase-contrast tomography with multimodal imaging compatibility." Nature protocols (2023): 1-27.  DOI: 10.1038/s41596-023-00804-z
Bellier, Alexandre, et al. "Imagerie en contraste de phase par source synchrotron appliquée à l'étude anatomique de la vascularisation artérielle de l'hippocampe." Morphologie 106.354 (2022): S22-S23. DOI: 10.1016/j.morpho.2022.06.018 (French)
Bellier, Alexandre, et al. "Anatomie multi-échelle par imagerie synchrotron de la vascularisation bronchique dans l'infection à SARS-CoV-2." Morphologie 106.354 (2022): S38. DOI: 10.1016/j.morpho.2022.06.051 (French)
Ackermann, Maximilian, et al. "Reply to: Intrapulmonary Shunt and Alveolar Dead Space in a Cohort of Patients with Acute COVID-19 Pneumonitis and Early Recovery." The European respiratory journal: 2202121. (2022). DOI: 10.1183/13993003.02121-2022
Ackermann, Maximilian. "Auf dem Weg zum virtuellen Mikroskop: Synchrotron-basierte dreidimensionale Bildgebung in der Pathologie." Die Pathologie (2022): 1-6. DOI: 10.1007/s00292-022-01161-6 (German)
Kamp, Jan C., et al. "Novel Insight into Pulmonary Fibrosis and Long COVID." American Journal of Respiratory and Critical Care Medicine 207.8 (2023): 1105-1107. DOI: 10.1164/rccm.202212-2314LE 
Submitted: Brunet, Joseph, et al. "A closer look at high-energy X-ray-induced bubble formation during soft tissue imaging." bioRxiv (2023): 2023-02. DOI: 10.1101/2023.02.14.528474
Submitted: Rahmani, Shahrokh, et al. "Micro to macro scale analysis of the intact human renal arterial tree with Synchrotron Tomography." bioRxiv (2023): 2023-03. DOI: 10.1101/2023.03.28.534566